Dog Agility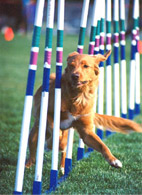 Dog agility is the fastest-growing dog sport ever. Dogs race around an obstacle course expending energy and having fun! They leap over jumps, race through tunnels and tires, zip across elevated walkways, negotiate seesaws and more. It's fast, it's exciting and it's fun! In fact, dog agility is so popular that both Outdoor Life and the Animal Planet channels feature national and regional agility competitions, with owner interviews and tips for aspiring competitors.

But agility is a lot more than just a good time. It is great exercise for both you and your dog. It's a tremendous confidence builder for a shy or timid dog, and an energy outlet for the highly active dog. Through agility you'll reinforce and broaden your dog's responsiveness-all in an environment that's entertaining and enjoyable for both the dog and the handler.

Our instructors are experienced, knowledgeable, caring professionals with extensive backgrounds in competition and judging on a national level. Regardless of your interest and goals - be it that you simply want to have fun, title your dog, win a National championship, or want to share your dog's talents and personality with others by participating in demonstrations for charity and feel-good events - you can do it all at All Dogs Gym.

For those interested in agility competitions, our classes prepare you for all titling programs - AKC, CPE, CKC, USDAA and NADAC. 100% of those students from our classes who have entered competitive agility events have achieved success - literally hundreds of titles from Novice/Starters to Masters, Excellent and Elite. Our students' remarkable competitive achievements are a continuing source of pride for the entire family at All Dogs Gym.

We offer agility classes and programs for every level of interest - from the pet owner looking for an energy outlet for her dog to the highly competitive enthusiast and everything in between. For a schedule of our upcoming agility classes see our Class Schedule.