You may have heard of the "new" dog virus making the rounds.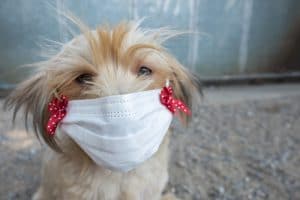 It is impacting dogs especially on the east coast, including the Northeast. It's called Canine Infectious Respiratory Disease Complex (CIRDC). Just as we are experiencing with COVID, CIRDC is multiple viruses and bacteria that affect the dog's respiratory tract causing symptoms such as sneezing, coughing and hacking. What is alarming is that many cases of CIRDC don't respond to commonly prescribed treatments and can result in pneumonia.
I am going through this with my own dogs. I am flummoxed about how Brio, my nearly two-year-old Basset Fauve de Bretagne got it. Brio started coughing when neither he nor I had been in contact with any other dogs for nearly three weeks. Since the incubation period for most viruses from exposure to clinical symptoms is usually around five days, even if I double that, it doesn't explain where Brio caught it. It started with a minor cough and ended with him spending two nights in an emergency clinic with pneumonia.
Typically, viruses spread from dog to dog through contact or, as with humans, by airborne viruses. One of the issues with the new illness is that some dogs, like Brio, are getting it without any dog-dog interaction or other likely culprits.
Here's what we know, and don't know about this CIRDC (much of this information is from The Ohio State University College of Veterinary Medicine website (search for CIRDC):
Just as with humans, there are many variations of canine viruses.

From OSU: "At least nine different bacteria and viruses have been linked as causes of CIRDC. Co-infections (i.e. infection with more than one bacterial or viral agent) are common."
There are vaccines for some, such as Parvovirus, Distemper, Canine Influenza and Bordetella.

However, the Bordetella and Influenza vaccinations apparently do not prevent CIRDC.

(Sound familiar?

How many of us have gotten COVID despite vaccinations?).

From OSU: "Most often, dogs that are … infectious have signs of illness. However, some diseased dogs can shed the organism before signs of illness are obvious and some dogs are infectious but never show signs of illness."

(Also similar to COVID and is clearly the bane of our lives for those of us with boarding and daycare facilities).
Just as with human viruses, CIRDC is spread through likely contact with either airborne droplets or surface contamination such as on hands and clothing.
From OSU: "Severe disease and death from CIRDC mainly occur in puppies, older dogs with concurrent health problems, or related to infection with the organism canine distemper virus. Co-infection with multiple viruses or bacteria is common and might worsen disease severity."
CIRDC primarily affects the upper respiratory tract and unlike some viruses which are self-limiting, if left untreated it can lead to pneumonia.
What does this mean for you and your dog?
Keep your dog home if he or she shows any signs of illness such as a cough, nasal discharge, diarrhea, lethargy and the like.

In other words, err on the side of safety for both your dog and other dogs he/she may be in contact with.
If your dog has recently attended group training classes, dog daycare, overnight boarding or grooming, let the facility know that your dog is showing symptoms of CIRDC (or Canine Cough to use the vernacular).

At All Dogs Gym we isolate dogs that show signs of illness and call their owners to pick them up asap.

We have also stepped up our disinfecting protocols, as have many other facilities.

We all want to stop this in its tracks, so knowing that the virus/bacterium are around is important information for all dog-related service businesses.
Call your veterinarian at the first sign of illness to ask what he/she recommends.

If they want to examine your dog, it is likely they'll have you wait outside to avoid any contact with other dogs in the waiting area until your vet is ready to see you.
As we all have experienced for nearly three years with COVID, viruses are persistent, they mutate causing new strains, and there is no way to totally avoid them. All we can do is keep our dogs' immune systems as healthy as possible, take reasonable precautions and treat them quickly with rest, following your veterinarian's recommendations when/if they become ill.
As much as I hate thinking about, writing about, and most of all experiencing dog viruses, we're all in this together. Hopefully Brio, Larry and any other dogs experiencing CIRDC will heal quickly and without complications.