Dog and Puppy Daycare at All Dog Gym

Is Daycare for My Dog? / A Typical Day / New Dog Intro / Hours & Requirements / Daycare Training / Reservations / Applications / Prices / Booking Request

Daycare at All Dogs Gym started in 1993. We are proud to be pioneers in the concept of Daycare for dogs - offering a healthy outlet for a dog's natural energies, instincts and behavior. Our Daycare is much more than a day-boarding facility. At All Dogs Gym Daycare dogs socialize together. They run, play, wrestle, chase, play hide and seek, snuggle up together, or simply hang out with their friends.

Our groups range in size from just a few small dogs or puppies playing together to several groups of 15 or 20 well-matched, well-adjusted, happy dogs. Daycare for dogs offers the opportunity for dogs to express their natural behaviors in a physically and psychologically healthy way.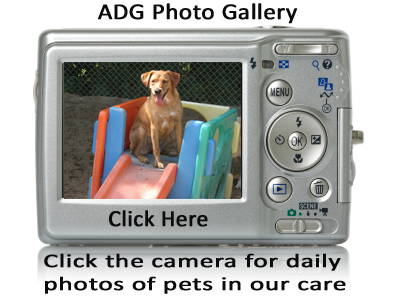 Constantly supervised by a trained, crackerjack team of caring Daycare chaperones, our Daycare dogs play together, have snacks, lunch time, nap time, and even training if requested.

Not sure if Daycare play with other dogs is best for your dog? We also offer Day Boarding - individual attention, and private walks with our caring staff. We can train your dog, too.

For more information to talk to us about what we recommend for your dog or to make a reservation, email or call us at (603) 669-4644. To facilitate your registration, print and use our Boarding and Daycare Application form.