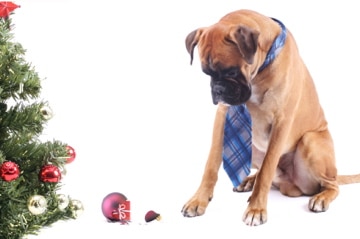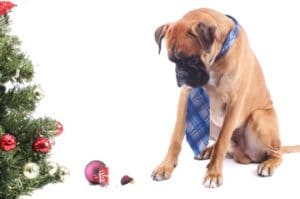 Helping your dog deal with stressful times
Before and during major holidays is a good time for reminders about some dangerous items that can potentially harm our pets. I could mention Mistletoe (which is highly poisonous), Poinsettia (which will cause mild gastrointestinal upset), chocolate (which can kill a small dog so contact your vet immediately), straight pins, tin foil and other easily swallowed items that can cause anything from a mildly upset stomach to intestinal blockage that requires emergency surgery, to death.  
It's also good to have a reminder about not bringing a puppy home on Christmas, or even a few days before.  Puppies need far more attention than they will get on Christmas day, so I would remind readers to wait until after the holidays to introduce a new family member.
But there's a more universal and important topic I want to address: The impact of stress on our pets.
Stress is rampant at this time of year. The season of "peace on earth; good will toward our fellow passengers on this journey" (I'm not trying to be politically correct . . . I just want to include our pets!) . . . anyway, giving, sharing and celebrating also means decorating, preparing, shopping, making, wrapping, mailing, cleaning, entertaining, and being entertained.  We have too much to think about; too much to do; and too little time. Plus this year for the second year in a row, we're still thinking about COVID and its variants.  Stress, stress and more stress.
What does our stress have to do with our dogs?  Quite simply, our stress affects our dogs and causes them stress as well.  Stress is often the underlying cause of dog behavior problems including aggression, from a growl to a snap to a nip to a damaging bite. 
Nothing changes our relationship with our dogs faster, or more profoundly than that first bite. Once a dog has bitten, that dog's life is different from that moment on.  In one split second, the dog's world will never be the same. No matter how much we may admit it was our fault, it still feels like a betrayal of trust. Once that happens, it is difficult or impossible to recapture the same level of closeness and confidence. So it is critically important to do everything in our power to avoid putting a dog in a position to feel such stress than he may snap or bite. 
In stressful times around the holidays, when your household routine is unfamiliar to your dog and the environment may be chaotic, respect your dog's need for calmness and space. Don't expect your dog to choose to leave a stressful environment on his own—most dogs don't.  But dogs provide subtle signals that say they need space and breathing room.  
To recognize when your dog is stressed, it's important to learn to understand, respect and respond to our dogs' body language.  This is by far the best gift we can give them, not just at Christmas, but throughout our shared lives.  The indicator may be as subtle as turning his head away or facing away from someone and standing really still that communicates his need for a break.  Don't force your dog to tolerate being dressed up, played with or petted by anyone, especially children.
While you may want your dog to participate and be part of your family festivities, thinking it is fun for him, for many dogs it isn't. Consider whether it may be kinder and less stressful to give your dog the gift of a quiet and safe place to relax with a nice treat-filled Kong or bone. Believe me, your dog will not mourn the time he missed watching everyone tearing into their gifts.
Merry Christmas and Happy Holidays to all – two and four-legged creatures alike.