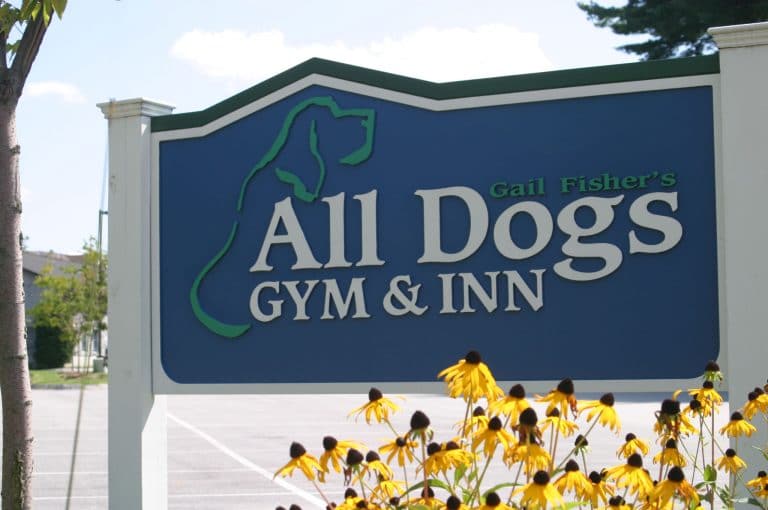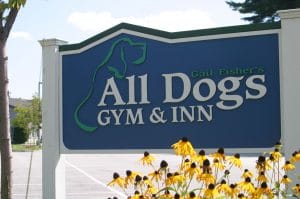 All Dogs Gym & InnTM was founded in 1993 by Gail Fisher, award winning author, lecturer, dog trainer, behaviorist and obedience instructor with over forty years' experience in the profession.
Since its opening, the Gym has become a regional, national, and international focal point for dog-owners, dog trainers, and dog-care professionals who are drawn to the Gym's mission of promoting dog friendly training and care methodologies.
Conveniently located in Manchester, New Hampshire near the Manchester-Boston Regional Airport, All Dogs Gym & Inn offers activities and services for virtually every dog (and cat) owner in the Northeast.
Our Mission
All Dogs Gym's mission is to enrich and enhance the lives of dogs and their owners to achieve the highest levels of lifelong, mutual enjoyment.
More than just words, this is Gail Fisher's personal mission, which she has pursued for over 40 years. All the programs, classes, events and activities at All Dogs Gym® are run by our full and part-time staff who are dog-lovers at heart, are devoted to the Gym's mission, and are thoroughly trained in the Gym's philosophy, mission and dog-friendly methodologies.
Dog-care professionals from around the world frequently contact us for advice and information about starting similar facilities in their home towns. While our model has been copied by others across the nation and throughout the world, there is only one All Dogs Gym & Inn.
Our Staff
Meet our tireless and dedicated staff who are here to serve your dog's and cat's needs!
Daycare Staff
Our terrific Daycare staff is a unique group of dedicated people whose primary purpose is ensuring their Daycare buddies have a good time in a safe and healthy environment. Trained in body language, dog handling, health and first aid, they often share stories and tales to inform and amuse dogs' owners (and other staff). We can accommodate almost any type of dog, regardless of age and play style in our Daycare.
Inn Staff
Our outstanding Inn staff treat the pets in their care as if they were their own. Trained in the most up-to-date approaches to stress-free care, our Inn staff are dedicated to meeting the physical, mental and psychological needs of our guests, creating a comfortable, healthful environment in their home away from home.
Our Trainers & Class Instructors
Our dog trainers and class instructors are unparalleled in their expertise, attitude and caring about the dogs they train. This dedicated group strives to use only the gentlest, kindest dog training methods, working with both the dogs and their owners to enhance relationships and communication. They love sharing their knowledge with students of all ages. Learn more about the individuals who teach our classes, work as private trainers, and do behavior consultations.
Grooming Staff
Our groomers' motto is "gentle hands for cold noses" – trained not only in the latest grooming techniques, our grooming staff strive to make grooming a positive experience – whether it be nail clipping, a puppy's first bath, or an elderly dog's semi-annual clipping.
Our Reception & Administrative Staff
Our office staff focuses on making things run smoothly at All Dogs Gym & Inn. Responsive to our customers, they are always available to help a dog owner with a problem, help select the right program for their dog, and sometimes just offer the caring support dog owners need in difficult times.
Explore a Career with All Dogs Gym & Inn
Looking to make a career out of your passion?  Fill out this online form and submit it.  We will contact you for an appointment if your qualifications fit the bill. Please no phone calls.