Gail Tamases Fisher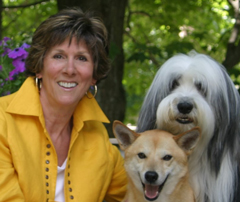 With over 40 years professional experience
, Gail's background in dogs covers virtually all aspects of the field - breeding, showing, competitive obedience and agility, and training dogs from household pets to problem solving to training specialties such as dogs for the hearing impaired. She bred Mastiffs and Vizslas, handling many dogs of her own breeding to breed championships and obedience titles. She operated a boarding, grooming and training kennel, worked for a professional handler and developed professional skills in grooming as well.
While Gail's direct involvement with dogs
has been the mainstay of her professional life, she has made even more significant contributions to the field as a "teacher of teachers." Gail developed the
first ever university course
for dog trainers and instructors, a two-year certificate program, which she taught at the University of New Hampshire.
Named one of the top five lecturers
in the world on dog behavior and training by England's "Our Dogs Magazine," her entertaining and educational seminars spread the word of humane dog training and a greater understanding of dog behavior to audiences throughout the United States, Canada, England and Switzerland. Gail's commitment to learning and sharing knowledge benefits dog owners, professionals and the dogs themselves.
Many organizations and institutions
recognize the depth and breadth of Gail's expertise. She was on the Board of Directors of
the Association of Pet Dog Trainers
,
and was the 2011 President of the APDT. She is a Certified Dog Behavior Consultant and member of the International Association of Animal Behavior Consultants (IAABC). Her most recent book,
The Thinking Dog
, has been called the quintessential book on "marker training." Gail is also author of two award-winning books, several dog-training manuals, and a contributor to the
AKC Gazette
and the
APDT Chronicle of the Dog
. She has been featured on numerous national and regional network and cable television broadcasts, and on the documentary "Tough Love." She is in her eighteenth year as a weekly columnist for the
New Hampshire Sunday News,
and has testified in court as an expert witness.
Most importantly
, it is Gail's principles and philosophy that energize everyone at All Dogs Gym & Inn. It is her belief and commitment to our mission that all dogs can reach their highest potential when their owners have an understanding of their dogs, when dogs live in a mentally, physically and emotionally healthy environment, and when they are trained.
Click for a partial list
of Gail's published works. To see how Gail answered our Trainers' questions,
click here.
For a listing of Gail's seminars, or to arrange a seminar or program,
email Gail
.