The unintended consequence of staying home.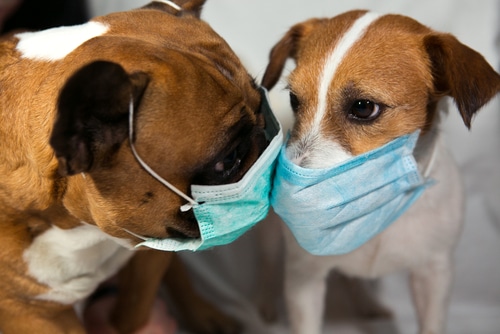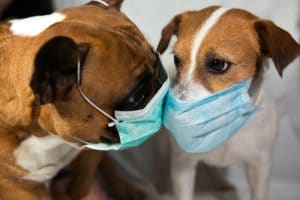 We recently hired a young woman for her first job. Because of Covid, she had spent the last two years unemployed and pretty much doing nothing. She lasted in the job less than two weeks. In that time, she was late twice and called out sick on her first Friday. Perhaps she has learned something from this experience, and I know we have. We learned that this is yet another unintended consequence of the Covid shut-downs—young adults who should have experience in a workplace, simply haven't had that experience, and some may not be interested in learning it.
It isn't just young humans who need to learn new skills, Covid and lack of socialization has impacted dogs who were adopted during the shut-downs. Because they were kept home. They weren't socialized—the process of introducing a puppy to a diverse range of people, places and things. Through exposure to different things, a puppy learns to accept "the new"—new environments, individuals and activities. Socialization strengthens a dog's coping skills, enabling her to tolerate and accept unfamiliar things throughout life. Especially significant in the first 12 weeks, the importance of puppy socialization cannot be overvalued. Without it, dogs go through life fearful of and stressed out by anything new and unfamiliar.
Socialization is so important that in 2008 the American Veterinary Society of Animal Behavior (AVSAB) issued a position paper stating that the importance of puppy socialization trumps the risk of illness. Prior to this, many veterinarians advised keeping a puppy home until around 16 weeks of age, despite the fact that two books published in the 1960's—GENETICS AND THE SOCIAL BEHAVIOR OF THE DOG by John Paul Scott and John Fuller (1965), and THE NEW KNOWLEDGE OF DOG BEHAVIOR by Clarence Pfaffenberger (1963)—clearly reported the impact of lack of socialization. I first read these books early in my career, and they had a profound influence on me. I've been lecturing and writing about the importance of socialization ever since.
Without socialization, a dog grows up fearful of anything new. He acts perfectly normal, outgoing and confident in familiar surroundings, but lacks confidence in an unfamiliar environment or situation. In the extreme, a dog may be so stressed and frightened in new situations as to be nearly catatonic.
I saw the effects of lack of socialization firsthand in England when a generation of dogs was not socialized. I first visited England in 1980 to teach a dog training course, returning annually for a two-week lecture tour. At first I was impressed by (and frankly envious of) the extent to which dogs were accepted everywhere. Dogs were extremely well-socialized, allowed on public transportation, welcome in pubs and restaurants, participating in family outings, and enjoying frequent walks along the myriad walking paths where dogs could romp off-leash.
Then in the early '80's, England experienced an outbreak of Parvovirus, and veterinarians started recommending that puppies be kept home until they were five months old. After a few years adhering to this edict, a generation of fearful dogs was so prevalent that I could no longer even find a dog to use for a demonstration at my training seminars. Virtually every dog I approached was frightened of strangers and stressed-out in the unfamiliar training venue.
As these were the offspring of dogs I had trained and successfully used for demonstrations just a few years earlier, this change was clearly not genetic temperament. The culprit was lack of socialization.
This is what we're seeing with many dogs that were adopted during the Covid shut-downs. Dogs that, under normal circumstances would have gone to puppy classes, taken out for visits, training, and experiencing new things, were kept home. Being home together was great company for both the dog and the family, but it has impacted many dogs' ability to deal with stress and new situations. Positive, non-punitive training and good experiences can help the dog learn to cope, but the effects of Covid will be around far longer than the illness itself.
Now that quarantines and edicts to stay home are over, if you have a new puppy, start off right. Seek out—and check out—a puppy class in your area. Ask your veterinarian for recommendations, and then talk with the trainer that runs the school to make sure their class offers what you are looking for: socialization and a broad range of positive, reinforcing, happy experiences.
Socialization doesn't mean necessarily including everything your dog might be exposed to in the future, but it's important to provide variety during this time when a puppy's development makes him accepting of new things. With early socialization, you're well on your way to having a well-rounded, emotionally healthy, normal dog.