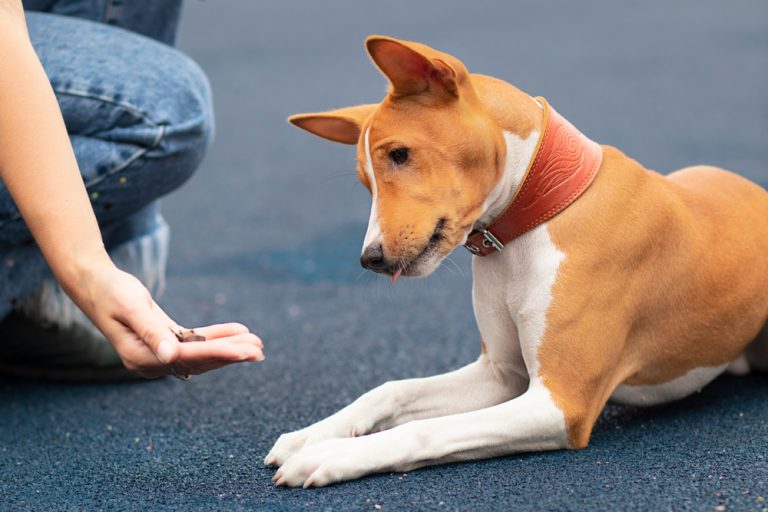 In addition to behaviors that are easily taught in your daily interactions with your dog (in "Teaching Self-Control"), here are a couple that require some specific training time, but are well worth doing.
Treats:  Use small, easily-swallowed, tasty treats.  Not something crunchy that requires chewing.  Small pieces of cheese or hot dog are good.  There are also lots of commercial training treats available.
"Leave It"
Teaching your dog to ignore or move away from something is not only helpful, it may save your dog from something dangerous.  This approach is sometimes called "Zen" training, because it uses the concept that you earn a reward by ignoring a reward.  Here are the steps to teaching it to your dog:
Step 1—leave it to get it:  Hold a treat in your fist, and place your fist in front of your dog.  Your dog will likely sniff and even paw your fist.  Say and do nothing.  Hold your hand still.  When your dog moves away, even slightly, say "yes" and reward with a treat from your other hand.
Repeat this step until your dog is actively ignoring your fist.
Step 2—See it; ignore it:  Next, open your fist so your dog can see the treat.  If your dog moves to take it, close your fist.  When your dog moves away, open your hand again.  After your dog has ignored your open hand for 2 seconds, say "yes" and reward with a treat from your other hand.
Repeat until your dog ignores your open fist for 10 seconds before you reward.
Step 3—Introduce the cue:  Start as you dd in Step 2.  Say "Leave it" as you open your fist.  Use a normal, calm tone of voice.  Avoid sounding demanding or angry.  
Repeat this step with the cue 20 times, varying the time your dog waits between two seconds up to 20 seconds.  Yo-yo the time frame up and down from very easy to harder.  For example, 5-seconds; 10-seconds; 2-seconds; 15-seconds; 3-seconds; 4-seconds, etc.
Step 4—New locations, new postures:  Move to a different room, repeat it sitting, standing, and even kneeling.  Hold your hand in different positions.  Switch hands, being sure to tell your dog to "leave it" before you open the hand that had previously been giving the reward.
Step 5—On the floor:  Place the treat on the floor and cover it with your hand.  Say "leave it" so your dog knows not to touch it.  Move your hand away, being prepared to cover the treat if your dog moves toward it.  After 10 seconds, say "yes" and reward with a different treat.
Repeat this in many different locations.  
Important note:  Always give your dog a different treat from the one you've prevented.  Never allow your dog to eat the treat you have designated as "off limits."