It may never happen, but preparation is important.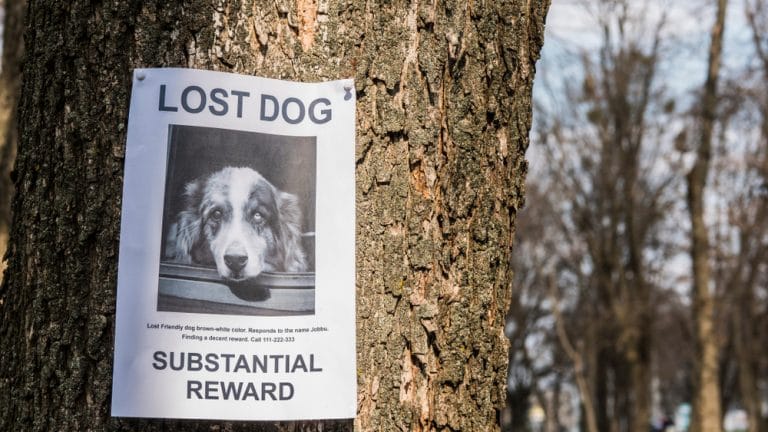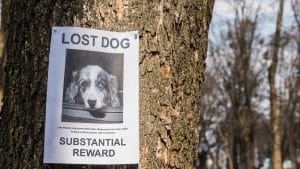 I've been going through some old articles looking for topics I wrote about years ago that are worth updating.  Five years ago my Chinook, Larry, got out of our fenced in yard not once, but three times within a few weeks.  The first time was when a neighbor's child came into our yard to retrieve a ball that had flown over the fence and left the gate open.  I didn't know about it until I called Larry to come in from the yard and he didn't come in.
In an instant panic, I ran out to the street.  Fortunately, I saw him happily cavorting in a neighbor's front yard about 6 houses away on the other side of the street.  Also fortunately, we live on a relatively quiet dead end street without a lot of traffic and most cars drive slowly.  The final fortunate thing is that Larry came when called, racing toward me, having a wonderful time.  He had a great outing with a happy ending, with relatively little stress.
A few weeks later, it happened again.  I called Larry to come in from the yard and he didn't. He had gone over the back fence where a small section that had been blocked by bushes over the summer was accessible with no foliage.  Larry had jumped on the top of the fence, bending it down and had jumped over.  I didn't know how long he had been gone, and my panic was increased because the rear of our yard leads to much busier roads than the one we live on.
I had written articles about what to do if your dog gets lost, but could I think of any of it?  Heck no!  The first thing I did was jump in the car and try to find him myself.  When I didn't find him, I tried to focus, started making phone calls and got on the computer.  Amazingly, within a minute of posting on Granite State Dog Recovery, I got a phone call from them that Larry was at the Manchester Animal Shelter.  What a huge relief!
After that incident, a good friend gave me a Whistle GPS collar for Larry.  Since then I've updated Larry's collar and gotten one for Brio.  It can help locate your dog if he does get loose.  But relying on satellites isn't instantaneous or 100% reliable, so it's important to know what else to do if your dog get's lost.
In 2009 when our Bearded Collie, went missing, I wrote about what to do if that happens.  Re-reading that information today is like going back to another Century.  Thirteen years ago, I recommended posting flyers throughout your neighborhood with a photo and "reward."  You can certainly do that, but today the first things to do are hit social media and call local shelters and police. 
Post to your all your social media sites to let your social media community know, post on any Lost Pet site you can find.  In New Hampshire, we are fortunate to have several.  Granite State Dog Recovery has a wide group of followers who generously go out to help search for lost dogs, and it was this group that told me when Larry was at the Shelter.  Post on neighborhood websites and on-line newsletters.  
There is nothing better than social media for spreading the word instantaneously and activating help finding your pet.  When I see a notice that might be in my neighborhood, I'm on it!  And so are a lot of wonderful, caring, people who generously give their time to helping reunite missing pets with their owners.
Right now while you're thinking about this, it's a good time to write down the websites, social media pages and contact numbers you can refer to if your dog every gets lost.  Hopefully you won't ever need to find a lost pet, but just in case …