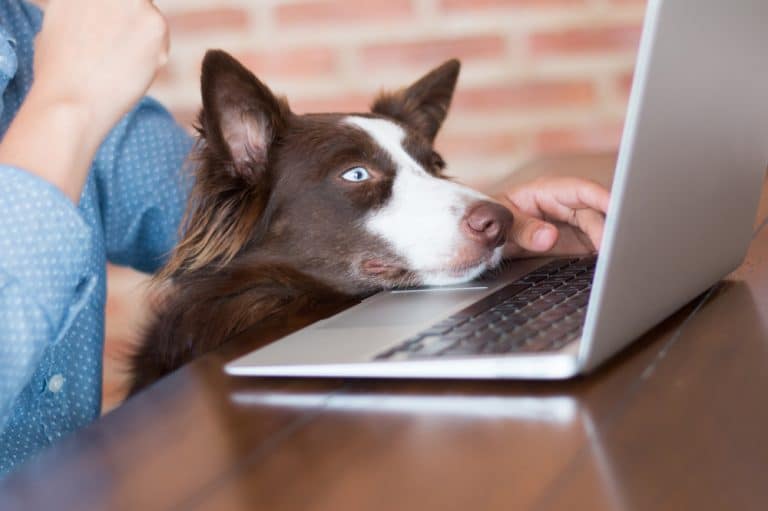 During the Covid-19 quarantine, many people worked from home.  At the time, we heard a problem shared by people who were working from home and/or home schooling with their kids.   Even though life has started to return to "normal," many people continue to work from home.  And they have a problem:
The dog!  Dogs interrupting on-line meetings.  Dogs interrupting you when you're trying to work.  Dogs begging for attention while your child is trying to learn on-line, and the like.
Dogs are not used to the profound changes that  occurred when the family stayed home 24/7.  Suddenly everyone was feeling their way through the new  "normal"–and it was stressful!  Stress often leads to dogs acting out with undesirable behaviors.  Plus they respond to our stress—and lord knows, we're feeling pretty stressed! 
Here are some ideas to help you prevent and deal with canine interruptions:
To prepare for an on-line meeting, give your dog something to occupy his/her time.  See our article on using a snuffle mat as one idea.  
Train your dog to settle on his/her bed as Larry is doing as I write this.  See our article on teaching relaxed behavior.
Take your dog for a walk or play outside for 20 minutes prior to going to an on-line meeting.  Then give your dog a chew toy or something to occupy him/her during your meeting.  
If you absolutely must, crate your dog briefly while you attend to something else.  Use this sparingly.  It's much better to train your dog to be quiet and not bother you than shut him/her away.
Help for remote businesses:  If your business needs ideas to help your staff who are working from home and having issues with their pet, let us know.  We can tailor a program for your staff so they can maximize working remotely.  Email info@alldogsgym.com.
This was originally published on our Facebook page as "All Dogs Alchemy":  Ideas to help get through the Covid quarantine.  We've turned these ideas into Easy Activity articles, but you can click below to see the original posts.