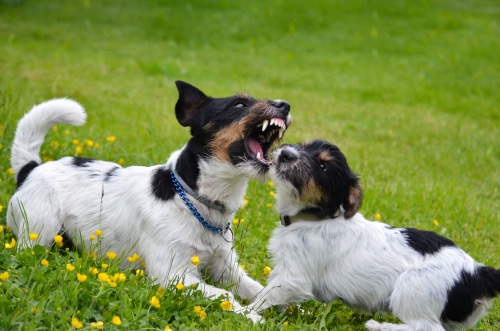 Is there such a thing as a "dominant" dog? Sure there is. A social hierarchy can exist between dogs – members of the same species. But it is not relevant to our relationship with our dogs. Social dominance does not exist between our two different species. We're not dogs, and our dogs know it. Dogs get along fine with humans because we're not in competition for social status. Why should we be?
What's in it for your dog to dominate you? What could he gain that he doesn't already have? You feed him; house him; groom him; and care for him. You take her places; provide toys, beds, and all the comforts of home. You walk her on demand and pet her when she asks for it. What's missing? Does your dog want to bring home the bacon (or Bison)? Does she want control of the car keys? Of course not. 
"But I've been told my dog is dominant!"
Most likely your dog is simply being pushy – and you've unintentionally reinforced that pushiness. Dogs are opportunists, and your dog has learned to take advantage of opportunities to get what he wants. It is easy to turn this opportunistic behavior around – non-adversarially without confrontation and without trying to "dominate" your dog.  
Read our approach to creating the best, mutually rewarding partnership with our dog in "Earn Life's Rewards."
Read the next part of this series All About Dominance – Part 3.