We wish we could help you. In the meantime ...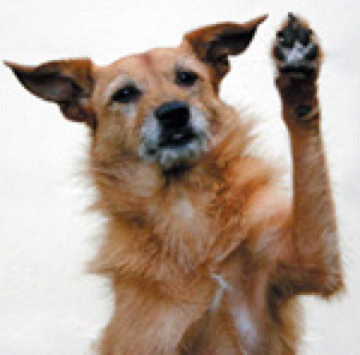 If you've tried to make an appointment for a behavior consultation or private lessons with us, or with another reputable trainer, you know that the demand is far outpacing our ability to meet it.  We've likely put you off for many weeks, or even months.
What is the problem?  Might this be you?  
It made so much sense—we're home all the time.  The kids are home from school.  What better time to get a new dog/puppy when we have the time to housetrain and integrate him into our family!
And now quarantining is over.  The kids are out of the house and adult may be back at work, and your dog is left alone—but he's not used to it.  He's barking, or chewing, or may even be self-mutilating.  Most likely, if you got a puppy, you weren't able to take her places because of Covid so she wasn't well-socialized.  Now that you're taking her out, you're finding that she's anxious and may even be growling at people.
You probably tried teaching your dog manners behaviors, and even had success.  But with the changes in your life and your home, your dog isn't as responsive as you want… or need.  And some undesirable behaviors have shown up.
We want to help!
We wish we could help you RIGHT NOW!  But we can't!  Demand is far outpacing our ability to meet it.  
 We are overwhelmed with requests for appointments, especially to address behavior problems.  We're booking as much as three months in advance for behavior consultations and private training.  We feel and share the frustration of dog owners looking for help, and are just as frustrated that we aren't able to offer what they want and need.  But we have some "in the meantime" ideas that we hope will help. 
Articles on lots of topics
Check our Blog post topics for articles on behavior issues, training, puppy rearing and management ideas, and some immediate suggestions that may help.  We're adding more articles and topics all the time, so check back often.
Consider group training
While you're waiting for a private consultation, consider enrolling in a group class, if your dog isn't reactive (barking and growling) at other dogs and people.  Unfortunately, dog reactivity can't be addressed in a group class, and a dog's unruly behavior can be more frustrating than waiting for a private consultation. 
Basic training is helpful for many behavior issues owners experience.  Often, simply developing a responsive relationship with your dog through training can address many behavior issues—even when you aren't specifically working on that behavior.  
Gail Fisher's All Dogs Gym Facebook Page
Finally, keep an eye on our Facebook page.  We are looking for additional ways we might offer advice and help and we'll let our FB friends know about them.  One thing we are planning are interactive, live FB sessions to hopefully help frustrated owners with management and training ideas for the "meantime."  And we're always looking for other innovations and ways to help.  Stay tuned and check back for ideas, dates, topics and times. 
Tell us what you want help with
As we plan for Live Facebook sessions, let us know what topics you'd like help with, or would like to learn more about.  Email a topic to info@alldogsgym.com with the Subject:  FB Topic.