Dogs have an amazing sense of smell and a natural desire to use it – sniffing, hunting, exploring, learning.   Scent work:
Increases confidence in the shy dog
Increases the teamwork you and your dog have together
Provides a healthy outlet for your dog's natural instincts
Practice anytime, anywhere — inside and out.  No special equipment needed
Your dog will love it… and so will you!
Scent Work Class Descriptions
Scent Work Beginner 1 and 2
Providing both mental and physical exercise, this class develops your dog's instinctive behavior, focusing on his or her natural abilities, teaching you how to encourage and nurture them.  Beginner 1 is followed immediately by Beginner 2, together laying a firm foundation for your dog.  There are no prerequisites, but basic training is recommended.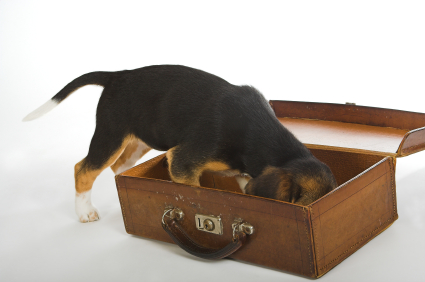 Scent Work Intermediate
Building on the foundation of your beginner class, this class is the continuation of this terrific outlet for your dog's instinctive behavior.
Scent Work Advanced
Continuing the partnership between you and your dog, on-going scent work classes provide a healthy outlet for your dog's mental energy and instinctive behavior.